About Ned's Flooring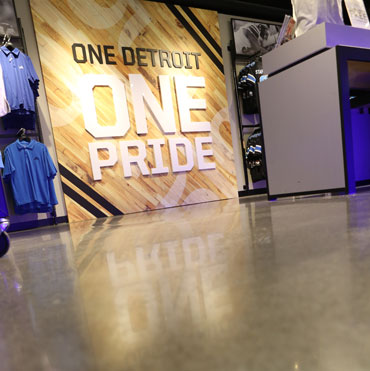 Ned's offers premier flooring removal and polished concrete for industrial and commercial projects. Our company was built on a foundation of customer service and quality work.


It all began with a simple idea. Our founder wanted to create a flooring removal company to handle large projects with honesty, efficiency and safety. The goal was to provide an exceptionally high level of workmanship, a phenomenal customer experience, and consistently superior outcomes. This idea became a reality, initially as a one-man operation.


Ned's started off just doing flooring removal, but there quickly became a need for removing adhesive. Soon after getting into surface preparation, customers started asking for resurfacing and concrete services. Our services now include flooring removal, surface preparation and grinding, polishing and offering decorative concrete. We had to evolve to meet the requests of our loyal clients, which is why we offer complete flooring solutions today.


Although it began as a very small business, Ned's has gained success because of satisfied clients and a solid reputation for delivering the best in flooring removal. The company has expanded to an entire team of experienced professionals who have thousands of hours of experience operating our equipment in a variety of settings. Each of our staff understands and believes in the importance of safety, service and quality, which drive everything we do.
Why Ned's?
The best in service and quality
Top-of-the-line, highly advanced machinery
An unmatched level of field experience
Professionals who have completed intensive training
Licensed and fully insured
Quick, quiet and courteous service
Environmentally friendly techniques and equipment
Safety comes first
Efficiency is key
We will beat any quote
Our Equipment
The best and latest in flooring removal technology
Removes carpet, hardwood, VCT, vinyl, tile and elastomeric coatings
Battery-powered for zero emissions
Blades can be sharpened after use, keeping costs low
80-90 percent of flooring is removed on the first pass<
Fits through standard doorways and elevators
Quiet and cool operation
Easily maneuverable for tighter areas
Batteries only use up power when machine moves
Maximum efficiency for quicker completion of jobs
Husqvarna grinders, PG 820 and PG 530, which use the latest technology
Triple-headed grinder applies more downward pressure for max stability
Testimonials
"I approached Ned's Flooring Removal to remove wood flooring from an existing concrete slab, and provide a polished and sealed concrete finish. They were very professional and completed the work in a timely manner. They exceeding my expectations with their attention to detail and concern with my satisfaction. I will continue to work with Ned's for my future flooring needs."

Matt Emmenecker
"We have been working with Ned's Flooring removal for approximately 4 years. They have done various flooring demolitions for us as well as polished concrete work. They are one of the few subcontractors that stand out from the rest by always accomplishing their part within our scheduled timelines even in extremely fast paced projects. Ned and his crew are extremely professional on and off site, very organized, and neat. They have a very open line of communication when problems come up, and they have always presented us with solutions on projects that have had unforeseen issues. This company is a pleasure to work with and we look forward to keep working with them in years to come."

Vladimir Abu-Ali
"We have partnered with Ned's Flooring Removal since 2011. We have found Ned's team to be very reliable, punctual, and thorough in performing flooring demo work, surface floor preparation, and concrete polishing for SCI Floor Covering. I would highly recommend Ned's Flooring Removal to assist you with your flooring projects."

Andy Korytkowski
Our Mission
Excellence in Customer Service
We know we wouldn't be in business without our loyal customers. That's why we make sure every experience is worthy of a referral. From your first conversation with us to completion of the job, we put you and your needs first.
Unrivaled Work Quality
To us, good is not good enough. Our goal is for our results to exceed your expectations. We are focused, quick and efficient throughout the process, which leads to a better-quality final product. Count on us for expert workmanship.
Safe Practices
No matter what the job, safety comes first. We make sure the work site is safe for all in the vicinity by preventing toxic dust from entering the air and keeping equipment stored properly. Our practices keep our workers and clients safe.