Flooring Removal Services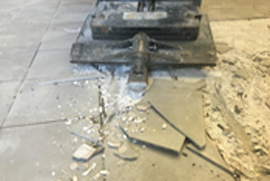 Removal of existing flooring can be a challenging and dirty job. At Ned's Flooring, this is our specialty. We have the equipment and expertise to remove almost any kind of flooring quickly, safely and efficiently – all while remaining environmentally friendly.
The key to our high level of quality is our use of advanced floor scraping equipment and techniques. We use the Terminator T-2000 scraper for our flooring removal because it gets rid of 80 to 90 percent of the coating on the first try. This state-of-the-art machine is battery-powered, which makes it quiet and eco-friendly. The battery can power the equipment for 8 to 10 hours of continuous work, resulting in shorter time frames for removal and surface prep.
Although it is a riding floor scraper, the Terminator T-2000 is designed to fit in standard doorways and elevators, as well as maneuver cleanly in tight spaces. Most of our flooring removal professionals have spent countless hours operating this first-class tool, which clears multiple types of flooring, including:
Carpet
VCT
Vinyl
Tile
Marble
Hardwood (glued)
Elastomeric Coatings
Two of the more common coatings we remove are hardwood and tile.
Professional Hardwood Floor Removal
Hardwood removal can be a lot of work and leave a large mess when it requires scraping up glued-down boards. Some people try to tackle this themselves, but it can be a long process if you don't have the right tools. Our machinery makes pulling up hardwood floors easy and much quicker. We will remove all of the wood coating and grind off the adhesive so your concrete floor underneath will be ready for polish or re-installation of new flooring.
Removing Ceramic Tile
When you are trying to remove ceramic tile, inexperience can lead to long days and an overwhelming amount of debris. If you are trying to do it yourself, you will have to dispose of the waste correctly, as it generally will not be collected on trash day (it has to go to a landfill). Additionally, the work itself may result in injury due to flying tile chips, as ceramic doesn't often break off nicely in big, solid pieces.
With Ned's Flooring Removal, you don't have to worry about the mess, inconvenience or safety issues. We will handle all of the floor scraping, including of the thin set, and dispose of the debris and dust for you. If you need help coordinating a dumpster for your project, we can assist with that as well. The process is much quicker with our equipment, so we will be in and your tile floor will be out before you know it.