Decorative Concrete Services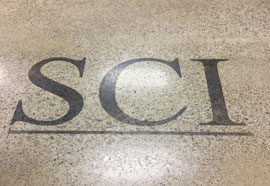 If we pull up the flooring and your concrete is a simple gray, we can stain the material or even provide decorative solutions to improve the aesthetics. For stained concrete, you get your choice of either solid or semitransparent colors, which are applied efficiently and evenly across the surface with special equipment and high-quality dyes. We prefer to use Scofield Formula One Liquid Dye Concentrate so you get several shade options and a jewel-like finished look. Your chosen color is added during the polishing process, leaving the floor with a gorgeous finish in addition to a customized look.
For those looking for something a little fancier than just color, decorative concrete is also an option. You can use multiple colors and textures to create designs in the floor. Decorative concrete can be achieved through several processes, including stamping, engraving, overlaying and dying. Additionally, we can make saw cuts and fill the holes with any joint color you'd like to create truly custom designs.
Take a look at our past work to see what we can do with decorative concrete.
To see our concrete color options, click our color charts below.